"And the story of it's life, Told backwards down this rod of light, But at it's beginning.. Long extinct..." - Wrapped Up in Time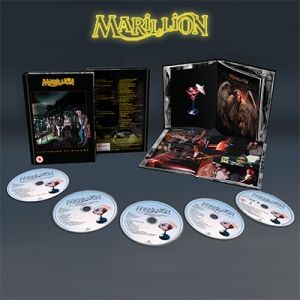 6th September 2018 - Clutching At Straws 2018 Deluxe Edition Details

Dear All,

Following on from last year's revamped versions of Misplaced Childhood and Brave, Warner Music are giving Clutching At Straws the Deluxe treatment.

The 5 disc package will include new stereo and 5.1 mixes of the album by Andy Bradfield and Avril Mackintosh. We are really pleased with these and think the stereo mix is an improvement on the original but, in case you don't agree with us, we have included the original 1987 mix for completeness on the Blu Ray.

We have also included the 19th December 1987 concert at the Edinburgh Playhouse in its entirety spanning 2 discs. Most of this show is previously unreleased and it has been expertly mixed by Mike Hunter.

Disc 4 contains 19 demo recordings, including 4 previously unreleased demos of Hotel Hobbies/Warm Wet Circles, Just For The Record, Torch Song and Slàinte Mhath.

The Blu Ray also includes a 60 minute interview style documentary with all 5 members of the band discussing the making of CAS and the subsequent split with Fish, with Mick Wall, the journalist who wrote the first official Marillion biography.

If you are a fan of CAS and want to immerse yourself in all things Clutching then this release is for you!

The release on November 23rd will also be available as a 5 disc deluxe vinyl box set.

PRE-ORDER THE DELUXE CD/BLU-RAY - CLICK HERE TO PRE-ORDER
PRE-ORDER THE DELUXE VINYL - CLICK HERE TO PRE-ORDER

Anyone who pre-orders before the release date will receive a hand signed print (signed by Ian, Mark, Pete and Steve R.) and will also be entered into a draw to win an original Clutching At Straws leather tour jacket.