From Pete Trewavas and Eric Blackwood's "Edison's Children"
With Marillion's next masterpiece gearing up this summer at Racket, Edison's Children is going to hold off on the recording of its next "epic" until after the release of "Marillion 18". (As we want to hear it as much as you do!).
However, we wouldn't want to leave you without anything until then. Because of this, we are proud to announce that we will begin an immediate pre-order for our new "bridge album" - something to take you from our last album to our next and it is appropriately titled:
"Somewhere Between Here And There..."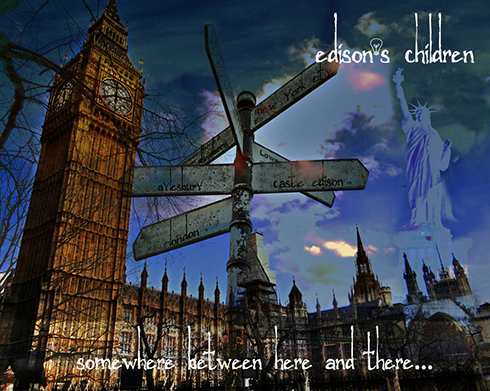 This CD will feature:
14 never before heard, new and remixed tracks including 7 brand new songs totalling nearly 80 minutes of music! This includes the 3 songs that Eric Blackwood just debuted for you at the Marillion Weekend in Montreal...
Never before released: A Million Miles Away (I Wish I Had A Time Machine) - Live From Wolves from the 2013 Marillion Weekend!
King Crimson Lead Singer Jakko Jakszyk was recommended to us, by Steven Wilson, to help Edison's Children mix their 2nd CD "The Final Breath Before November". However after mixing 4 songs, we decided that while they were excellent mixes, they didn't quite have the Edison's Children "sound". John Mitchell would remix the songs for the album (with only The Final Breath appearing from Jakko on the actual CD). For the first time ever hear the other 3 songs as they were originally mixed by Jakko. This will finally include the highly anticipated "Where Were You? - Jakko Whisper Mix", complete with the 2 minute longer "whispery ending" which has been the rumour mill of E.C. forums for over a year now.
When Michael Hunter mixed the epic song "The Longing", he mixed two very different versions. One was a beautiful and lush orchestral mix and the other, a powerful and complex rock anthem. After taking 3 days of listening to each mix, Pete and Eric decided that Mike's amazing "Rock Mix" would be a defining song for Edison's Children. Now you finally get to listen to the more "orchestral version" that Michael Hunter produced, which nearly made it to the album!
The first 300 pre-orders will have their name in the booklet as a thank you for your continued appreciation and support of Edison's Children.