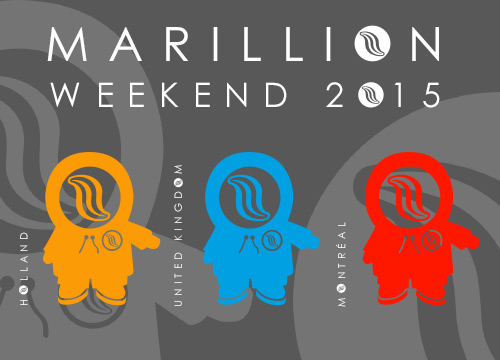 Summer has arrived and as well as the sun shining down on Marillion HQ (at last!), we have other reasons to be wearing perma-grins.
As many of you are aware, every two years we hold 'Marillion Weekends' in Holland, Montreal and the UK.
Our Dutch convention (March 2015) has sold out in two days!
We are astounded and "made up". Thank you all!
If you missed out - don't despair: There is a waiting list, and if you would like to be added to it then please send an email with your name and address to convention@marillionweekend.com
We have had ticket updates from Montreal and the UK, both of which went on sale on Monday, and they too are selling incredibly well.
If you haven't been to one of our weekends before, then maybe 2015 should be the year you do! Check out
www.marillionweekend.com
for full information. Find a better way of life! It's not just a slogan..
We are spending the rest of the Summer in and out of the studio, hatching the next monster... At this stage, it's barely a chicken, but bear with us. (Chickens and Bears Hmm...)
We also have various festival appearances planned across the summer and will finish the year with a short (but festively sweet!) Christmas Tour in December (
www.marillion.com/tour
). This will be a Christmas tour to remember. Not only because, it will be close to Christmas (for a change:-)) but we have some jolly and festive ideas up our sleeves, so fun and good cheer will be the order of the day. Ah I can almost hear that inflatable Santa speeding down the drive once again..
We will do our best to give you updates. For those of you on social media, we are very active on our Facebook and Twitter pages.
Double hooray. See you soon under the sun?
h, Ian, Mark, Pete and Steve