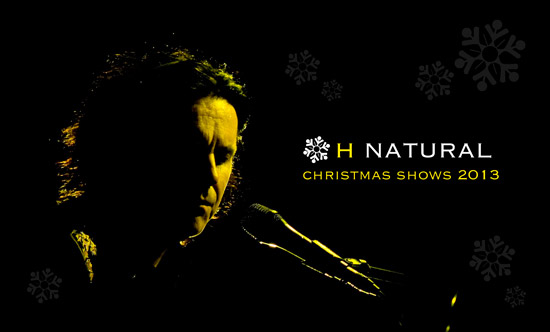 "Having the family round the tree"

h Natural Christmas shows have become a tradition! I feel it would be somehow wrong not to have the faithful round the tree in Liverpool and London and, after the fantastic atmosphere last year in Glasgow I'm looking forward to a return Christmas evening north of the border. This will be the usual thing - me, a piano, a tree, and a room full of revellers trying to keep the noise down while I sing, play, read from the diary and try to find out how your year turned out while reminiscing a little about mine. If you feel inclined to bring a bauble (as has also become the done thing) then you can get up on stage and hang it on the tree. In return, I'll play you a request.. If you want to know where a line in a certain song came from (or the whole song), there'll be every chance to ask.
There'll be a set list, but I'm unlikely to follow it much.
The h Natural shows are an attempt to completely break down the barrier that can exist between artist and crowd and, if you've been before, you'll know that I'm happy to let the audience take the show wherever they might take it. Happy Christmas then!
h
x
13th December St Brides Church, Liverpool
Tickets - www.wegottickets.com/event/240193
14th December Oran Mor, Glasgow
Ticket link to follow
20th December 100 Club, London
Tickets - www.wegottickets.com/event/240195