"Love her like you've never fallen in love before, Fall out of love with her, So you can remember..." - See It Like A Baby

We are pleased to announce that Marillion will be playing on the 'Cruise to the Edge' cruise along with Yes, Steve Hackett & a number of other bands...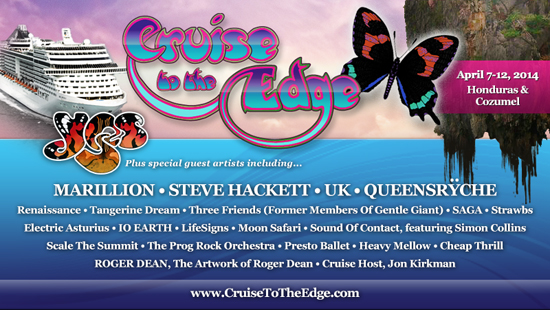 See below for more information from Cruise to the Edge...

"Dear Edge Cruise Fans,

We trust that you are excited about YOUR lineup for the 2014 Cruise to the Edge…it is going to be one of the greatest Progressive Rock Events of all time!! Even better, we still have a surprise or two up our sleeve…that's right, more artist announcements coming!

Also, the spectacular new MSC Divina is the site for Cruise to the Edge. This incredible state-of-the-art superliner has the world's largest and finest performance theater and will soon feature the largest deck stage ever built…just in time for YES and our all-star lineup! But don't take our word for it, check out this link: http://www.youtube.com/watch?v=BatYwaWY4b0

In the meantime, here are some dates that we want to share with you as we approach the opening of Cruise Reservations in the days to come:

• Full Web Site Launch – Late next week projected (Week of August 12)
• Alumni Booking – Projected for Tuesday, August 20
• General On Sale – Projected for Tuesday, August 27

Expect email announcements in the next few days. Join the mailing list below so you don't miss a thing!!



5 REASONS CTTE IS THE WORLD'S GREATEST PROG ROCK CRUISE:

1. 13 New Bands including MARILLION, Three Friends, LifeSigns and more!
2. Returning classic favorites including YES, Steve Hackett, UK, Saga and more!
3. World's newest and nicest floating festival ship…best sound & venues
4. 5 night itinerary…see real Caribbean ports, not just the Bahamas
5. Prices start at $799 USD per person, double occupancy. Cruise include stateroom, meals, concerts, events and more!

PS…VERY IMPORTANT: THIS IS A FULL SHIP CHARTER WITH PROG ROCK FANS ONLY. THIS IS NOT YOU GRANDMOTHER'S CRUISE…NO BINGO, NO NAPKIN FOLDING, SHUFFLEBOARD, ETC!!:) Enjoy Concerts, Meet & Greets, Special Events, Themed Activities and much, much more! Book YOUR TICKET only at www.CruiseToTheEdge.com "