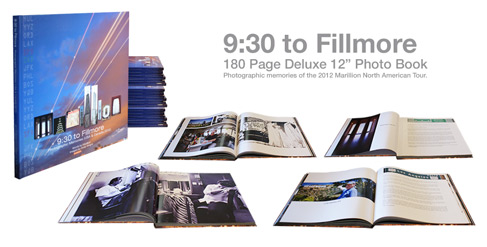 9.30 to Filmore - Photographic Memories North American Tour 2012.
Last June we toured the USA and Canada for the first time since 2004. Eight years of absence created an electrifying anticipation that has rarely preceded any tour we have done. Luckily we were shadowed every beer stained step of the way by the "Lord of the Lens" Andy Wright. He's a seriously nice guy that nobody would object to being around at any time, so he managed to capture the sights, the sounds, the smells.. OK, just the sights then, of the entire tour. Not just on stage, backstage or in hotels but everywhere from the White House to a social security office in Nowheresville.
From the 9:30 club in Washington to the Filmore in San Francisco Andy shot over 40,000 images. The best of these now make up this beautiful book that anyone who saw us on the tour will want to own for the memories and anyone who didn't see us will want to own to see what they missed. When it comes to photography, you've either got it or you haven't. And Andy has REALLY got it! Together we have produced a Limited Edition 180 page 12 x 12 hardback 'coffee table' art book which also includes diary pieces in each city from all 5 members of the band. We are very proud of this release.
We have been selling the book at our Marillion Weekends and it has had a great reception - thanks to all of you who have bought it so far. The last remaining copies are on sale now.
Mark, Ian, H, Pete and Steve
The book is now available to buy on the following page in the Racket Store: www.marillion.com/shop/merch/930tofillmore.htm