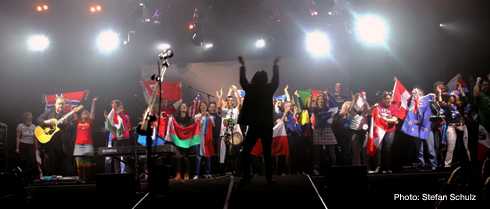 Well! Thank you all who came to the 3 convention weekends. We can't help feeling these were the best yet, and the love just keeps on growing.!
It's been an extremely intense and busy 18 months for us and we've promised ourselves a little break over the summer so we'll probably scatter to the winds until the Autumn when we'll be back in the studio to begin jamming ideas for the next album. We're planning a handful of dates in November, looking at South America again next year and also some summer 2014 festivals. Over the summer, our faithful staff at Racket will be working on bringing to you the DVD's from this year's conventions - probably the best movies yet from the brilliant Tim Sidwell.
So until the Autumn, loves, er.. where's the hammock?.. zzzz...
h
In Other News:
Next Sunday Mark is running in the London Marathon with Marillion biographer Jon Collins. If you would like to sponsor either of them and contribute to a great cause you can do it at..
http://uk.virginmoneygiving.com/MarkKe11y
or
http://uk.virginmoneygiving.com/JonCollins2
Thank you!