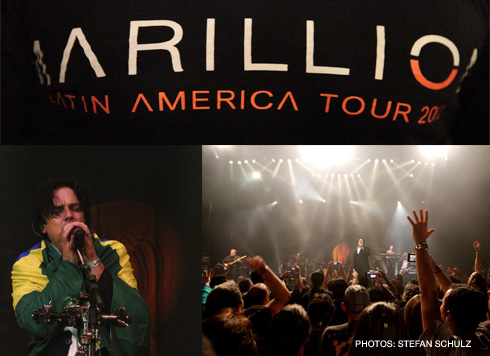 As I write, I'm packing. This evening we'll fly home from Mexico City (which I have fallen in love with all over again) back to England to rest and prepare for our upcoming European shows.
The South American tour has been a reaffirmation of the faith and passion there is for Marillion's music in this part of the world. The shows in Brazil, Argentina, Chile, Venezuela and Mexico had an atmosphere I'm unable to put into words. Suffice to say that in Latin America, the response to our music happens in the heart more than in the head. The other night in Mexico I found myself in tears as I stood on the edge of the stage, unplugged my in-ear monitors, and listened to the crowd sing "no one can take you away from me now". It wasn't just a song, it was a declaration of fact from 3000 people at once. The same happened everywhere else, although I must also single-out Santiago, Chile as an incredible and moving experience. I will return to England wearing my t shirt with the Chilean flag on it, sporting my pin-badge on my leather jacket of the crossed flags of UK and Brazil. In my luggage will be the Argentinian football shirt I was given with Messi on the back, along with a special edition of my beloved Cuervo Tequila. I had to buy another case just for the presents!
Thankyou South America. Thankyou Mexico. Amazing!
h
I'm sat in my hotel room in Mexico city waiting to go to the airport to fly home. Thinking back over the last 3 weeks I have to say it was the most enjoyable South American tour we have done. Why did we wait 15 years to come back? The warmth and appreciation we have been shown by the people has been truly moving and unforgettable. For me personally, the highlights were Santiago and Mexico and I'm looking forward to coming back again soon.
Mark
If someone asked me how I liked South America and Mexico my simple reply would have to be "what's not to like" We have been traveling around being shown so much love by fans wherever we go. It's been quite an experience. I think we all have lots of great memories to take home with us.
The band have been on great form and I am really looking forward taking the show to the next set of gigs.
Pete.
European Tour 2012/13 (2nd Leg)
15 November 2012 Lille, France (SOLD OUT!)
16 November 2012 Zoetermeer, Holland (SOLD OUT!)
17 November 2012 Eindhoven, Holland (SOLD OUT!)
19 November 2012 Enschede, Holland
20 November 2012 Cologne, Germany
21 November 2012 Strasbourg, France
23 November 2012 Nuernberg, Germany
24 November 2012 Munich, Germany
25 November 2012 Prague, Czech Republic
27 November 2012 Wroclaw, Poland
28 November 2012 Krakow, Poland
29 November 2012 Warsaw, Poland
18 January 2013 Paris, France
19 January 2013 Paris, France
20 January 2013 Lyon, France
22 January 2013 Milan, Italy
23 January 2013 Milan, Italy
25 January 2013 Toulouse, Italy
26 January 2013 Barcelona, Spain
27 January 2013 Barcelona, Spain