"It's always a struggle, To let somebody go, It's a natural desire, To own your lover, I know..." - Fantastic Place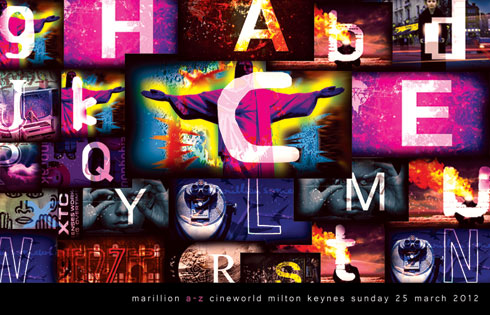 On Sunday we held the World Premiere screening of our new DVD at a cinema in the UK. A great time was had by everyone! Here's the reaction from the band:


I found myself back in the bar after the screening feeling almost as worn-out as I do after an actual show. The sound and the sensitively-edited vision took me through the gamut of emotions all over again and my natural reluctance to watch myself (agony!) was overcome by the compelling power of the band's performance and the audience in such amazing form. I'd buy this DVD just to enjoy the crowd's "Three Minute Boy" alone. Thanks to all who shot, recorded, mixed, edited and contributed that super-warm audience atmosphere. The band weren't bad either.. Last of all I can't go without a nod of thanks to those who came to Milton Keynes from outside of the UK. I have come to know many of the hard-core fans by name these days and it was good to see the familiar faces afterwards in the bar. You're all nuts and I'm grateful for that. See you again soon.
H

Seeing ourselves on the big screen was a quite an occasion. It gave me a brief glance at what we never get to see or comprehend for ourselves. The sound and visual experience was truly larger than life. Thank you, Tim and Mike for doing such a huge job so well. Of course the added bonus of sharing this with some of the extended family was the icing on the cake. Thank you all. It was an experience that will stay with me for a long while.
Pete.





It was really interesting to see and hear Saturdays nights performance on the big screen on Sunday. I relived every moment of the A-Z set, it was such a mammoth undertaking, you could almost see the steam coming out of our ears at times. Mike and Tim did an amazing job and it's fantastic to have such an outstanding record of the 2011 convention. It can be hard to explain to people what makes the weekends so special and I think this DVD says it more eloquently than mere words could convey.
Steve

Really enjoyed seeing some familiar faces at the screening of our A-Z DVD. I think everything seemed to go very well. By the time it had finished I felt like I had just done a gig. Big thanks to all that attended. It's always a pleasure.
P.S. Hope that Simon makes a speedy recovery after falling down the escalator just before the show and fracturing his ankle.
Ian

Once we finish making an album I rarely listen to it. Not because I'm not pleased with the results but because I always focus on the things I don't like about it rather than the things I do. Watching DVDs of our live shows is something I try to avoid even more. I had decided to turn up towards the end of the screening to say hello and sign a few things without having to sit through the entire A-Z. Mike (Hunter) said we should at least watch the second half because it looked and sounded amazing on the big screen. Out of respect for the amount of work and care Mike and Tim (Sidwell) had put into this I turned up just before the start of the second half. I was completely blown away by how good it was. Three Minute Boy was a total audience-fest, A voice From the Past was genuinely moving (although my piano playing was a bit heavy handed) and Zeparated Out was a rockin finish to a great set. I wish I'd been there to see it!
Mark


Check out the Trailer for A-Z in the Racket TV Lounge!

Discs 2 & 3 and the A-Z 3CD live album from our Holidays in Zélande DVD are available to Pre-Order now from the Racket Store. These releases feature the Saturday night A-Z set recorded at the Marillion Weekend, Holland in 2011.

The DVD discs fit neatly into the Deluxe box that comes with Disc 1.
We still have a few of these left in NTSC just in case you still haven't ordered your copy yet.

Discs 2 & 3 can be Pre-Ordered from:
www.marillion.com/shop/dvd/zelande-saturday.htm

The A-Z 3CD Live album can be Pre-Ordered from:
www.marillion.com/shop/albums/a-z.htm

Disc 1 complete with Deluxe Box is available from:
www.marillion.com/shop/dvd/zelande-friday.htm