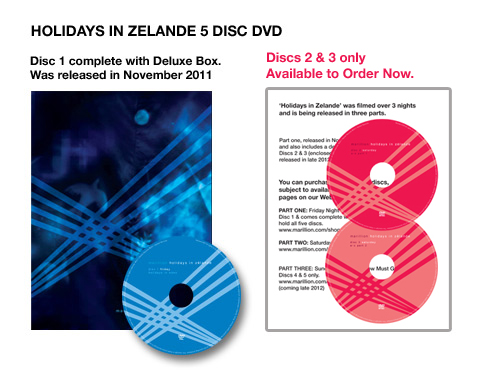 The second stage of our 'Holidays in Zelande' DVD is available Order now.
This release includes discs 2 & 3 which will be shipped in a plain cardboard mailer. If you have already bought Disc 1, which comes complete with the Deluxe box to fit all five discs, you can remove discs 2 & 3 from the mailer and add to your box. If you haven't got hold of your copy of Disc 1 we still have a few left in NTSC only. Please note: this is the only way to get hold of the deluxe box to complete the set.
Discs 2 & 3 contain the entire A-Z setlist filmed at the Marillion Weekend Holland in 2011. To get an idea of what to expect from this DVD check out the trailer which is available to view now from the Racket TV lounge or directly from the Saturday night page in the shop at www.marillion.com/shop/dvd/zelande-saturday.htm
To complete the set, Discs 4 & 5 will be available later in the year along with a Blu-ray release of the entire weekend.