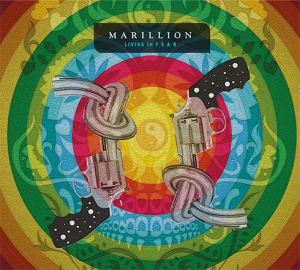 We hope you're having a good summer.

We are are pleased to announce that we've decided to release a single!

We thought it might be cool to give F E A R another promotional "bump" as we intend to continue touring our new baby well-into 2018.

Nothing works so well as a top ten chart position so…

Mike H, our resident genius producer has made a radical remix/edit of "Living In Fear" complete with outro taken from our live show at the 2017 Convention.

The preorder starts on Friday 8th September for release 6th October.

We'll share the video with you in a couple of weeks:)

You gave us top 5 with "You're Gone". Can you do it again?

We have a feeling you just might…

See you very soon

H, Ian, Mark, Pete and Steve

Info Here

Tracklisting: Marillion – Living In F E A R

1. Living in F E A R (edit)
2. The Leavers : One Tonight (Live)
3. Neverland (Live)
4. Dry Land (Live)

Available on Limited Edition CD, Numbered 12" Vinyl
and Digital Download.