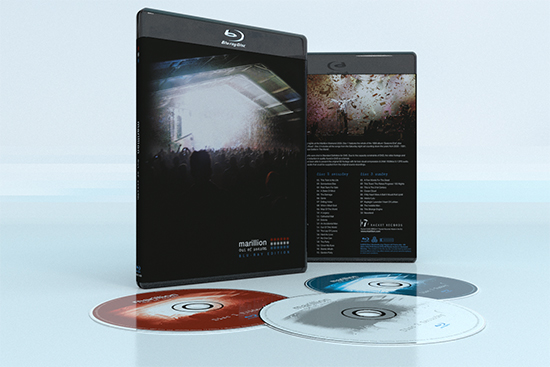 New! 'Out of Season' Bluray Edition
Over 6 hours of music, recorded over 3 nights at the Marillion Weekend 2009. Disc 1 features the whole of the 1989 album 'Seasons End' plus 5 tracks from 2008's 'Happiness Is The Road'. Disc 2 includes all the songs from the Saturday night set counting down the years from 2008 - 1981. Disc 3 features the Sunday night 'Shortest Setlist in The World'.
Originally released in 2010, these concerts were shot in Standard Definition for DVD. Due to the capacity constraints of DVD, the video footage and audio was compressed with an inherent reduction in quality found in DVD as a format.
Now for the first time on Blu-ray we have been able to present the original SD footage with far less visual compression & 24bit 1509kbs 5.1 DTS audio. The result is hopefully the best video & audio that could be supplied from the original source recordings.
marillion.com/shop/dvd/outofseason.htm