the next Marillion album.
That time is now!
As you know, we have spent much of the year holed up at our studio, The Racket Club, jamming, writing and recording. It's still early days but the initial jams are sounding like we really have the potential for something truly outstanding. There's still a lot of work to be done and we can't be sure when we'll have it finished but our hope is that our 18th studio album (as yet untitled) will be ready for release some time in early 2016.
We'd like to offer you, the ever-faithful, the chance to pre-order it now. This time, however, we are excited to announce that our pre-order campaign will be bigger and better! It has become obvious to us however that this campaign has outgrown what we can achieve alone.
Marillion who, with your help, literally invented "Crowdfunding" (or "the Direct to Fan" model now so prevalent in the music business) back in 1997, have decided to join forces with the new masters of the art, PledgeMusic.
We consider PledgeMusic to be the best of the direct-to-fan companies and have decided, after much thought and many meetings, that PledgeMusic offers the band and our fans the most exciting possibilities. Albums sold through PledgeMusic are chart-eligible giving Marillion a shot at a good chart position. PledgeMusic have offices worldwide with many more staff than Racket and will make the entire process more manageable and, we are assured, even more customer-friendly than the high standard of service we normally provide.
As you will see, this also gives us the means to add even more items and experiences for you to choose from. We hope this campaign will raise more money than ever before so that we can fund a marketing campaign deserving of our album across many territories. This campaign will also aim to finance a longer and more impressive tour enabling us to reach more of you with a knockout show production.
PledgeMusic have the same level of great customer service that we pride ourselves on and totally understand the relationship that we have with our fans, so you can order with the knowledge that you are in safe hands.
We hope that you will be as excited as we are at this news and we thank you, as always, for your love and extraordinary support. Many bands say it, but WE know it. We have the best fans in the world. After all, together we started this thing!
H, Ian, Mark, Pete and Steve.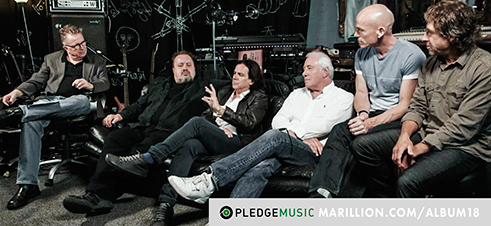 Tom Robinson recently visited the Racket Club to interview the band about their new album, Tour plans & the Pre-Order campaign with Pledge Music.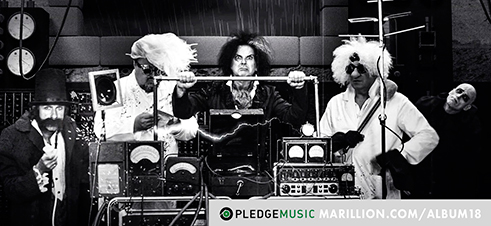 Watch the Album 18 launch film on our Pledge Music page.
www.marillion.com/album18