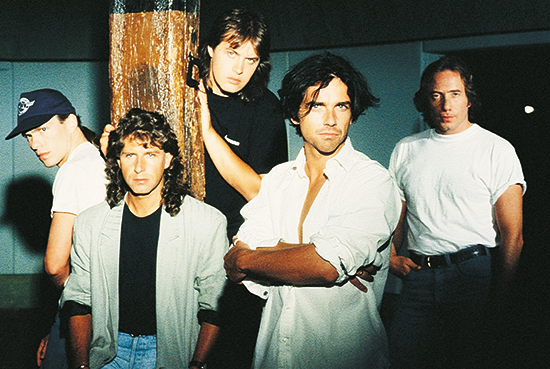 Ah, Seasons End - my first baby with Marillion. We seemed to write it in an afternoon and record it in a fortnight. The freak warm spring of 1989 saw us basking in the splendour of Hook End Manor near Henley on Thames. I flounced around the lovely house in a big shirt and drank Pimms by the swimming pool listening to "Slave to the Rhythm" and occasionally welcoming policemen and solicitors who delivered writs from Fish to stop us working. In the evening we made hot air balloons out of birthday candles and balsa wood. My bedroom was the oriental room, which I christened "The Opium Den". I had a piano at the end of my bed, and we handed our laundry in, in pillow cases, which reappeared pressed and clean on our beds in the afternoon. A team of girls looked after us and ran us to the pub sometimes where I drank snowballs with farmers and stockbrokers. I thought I was Lord Byron and I'd died and gone to heaven.
h
Recording of Seasons End: Probably the best and what seemed the longest summer I have ever had.
Recorded the drum tracks in about ten days. Extra activities for the duration of my stay involved:
Chasing after hot air balloons that we had made out of candles, Sketchley laundry bags and wood..soon to be upgraded (courtesy of M.Kelly) to space blankets and high altitude camping gas canisters.
Theme night dinners - my favourite being the reverse menu evening: starting with coffee and brandy then pudding, main course and starter (did feel a bit sick). Playing tennis everyday. Weekend Barbecues for friends and family. Bloody Hell!! Was it a dream? The Racket club studios suddenly don't seem that inviting..Ian (starving drummer, available for any exotic residential recording projects, own transport, cheap)
Ian
Season's End was such an eventful and inspiring time for Marillion.
As soon as Steve H joined the band we seemed to be rejuvenated.
We all gathered at a Mushroom farm on the A23 on the way to Brighton and wrote and demo'd what was to become the main body of the album and looking back it seemed effortless. So much so that we even had time off to head into Brighton itself where Steve found Sympathy by Rare Bird on the rock pub jukebox and put it on, telling us it was a favourite from his youth. We were still getting to know each other then, so little gems of knowledge were still being passed to and fro.
Then the recording found us flouncing around the magnificent grounds of Hook End Manor AKA Outside Studios, where we recorded for pretty much the whole of the summer. Along with splashing around in the swimming pool and playing tennis, we had pranks to play, dinners to arrange, the infamous party on the lawn for all our families and friends, a gig in a room the size of a billiard table give or take and of course the recording itself.
I think we all have fond memories of our brave new beginnings.
Pete.
During our last attempted writing session with Fish I wrote quite a lot of music which appeared on Seasons' End - the rolling guitar themes which became the verses of the title track and the different sections of Berlin, the music which was to develop into the Uninvited Guest and also the first part of The Space (after coming back from seeing Pink Floyd play at Wembley). It was quite a surreal experience how quickly Seasons' End came together. We had initially worked with Steve H at a rehearsal studio (which used to be a mushroom farm) just outside Brighton. Most of the songs were finished by the end of the first week! Moving to Hook End Manor, formerly owned Alvin Lee and then Dave Gilmour, was an incredible experience. Co-producing with Nick Davis meant everything ran smoothly and it's still probably the easiest album we ever made.
Steve R
We started writing Season's End in early 1988. The first writing sessions were mainly in Pete's garage. In case you are imagining a converted garage equipped like a modern studio, don't! It was just a plain double garage (without the car) This was long before we had the foresight to have our own studio. It was hardly a glamourous beginning to the album and the mood in the band was pretty low with none of us really wanting to be there and Fish turning up late most days if at all. In an effort put things on a better track it was decided that we should decamp to a castle in Scotland for the summer. Looking at the website it looks very nice
www.dalnaglar-castle.co.uk
It has obviously seen some love since we were there nearly thirty years ago. I remember it being cold and damp despite the fact we were there in July and August. The furniture was fit for a jumble sale and there was nothing to do within a fifty mile radius. Unsurprisingly we returned from there six weeks later with little to show from our time there and Fish heading for the exit door a few weeks later.
There followed a few months of searching for a singer which ended with Steve h joining us at the beginning of 1989 and another session away writing. This time we were staying in a converted mushroom farm renamed "The Music Farm" near Brighton. It lacked the wow factor of a Scottish castle but suited the five of us perfectly. Over the next two months we took the unfinished bits and pieces of music we had written while Fish was still with us, along with some new material, and fashioned them into the Seasons End album. H brought the song Easter to the sessions and lyrics were provided by our newly appointed lyricist, John Helmer and Mr h too who as luck would have it was also a lyricist.
By the summer we were in the best residential studio in the country adding the finishing touches to the album between sunbathing sessions by the swimming pool. A lot can change in a year when you are in the music business...
Mark