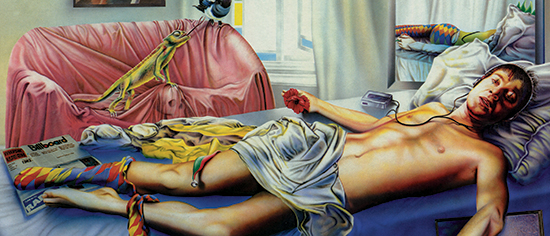 Fugazi was our "difficult second album". EMI expected us to produce a follow-up to Script within a year even though we were touring and promoting Script for a large portion of 1983 and were also looking for a drummer after the departure of Mick Pointer.
I recall that Fish had most of the lyrics for the album already written so the pressure was on the rest of us to come up with some music. We decided to head for Wales for inspiration with ex-Camel drummer Andy Ward. He lasted long enough to help out with the writing of Assassing and a partially aborted US tour in the summer of '83. He was followed by John Marter who only lasted long enough to play with us supporting Rush in New York in September and then we were back to Wales but this time with Jonathon Mover where we came up with some music for Incubus, She Chameleon and Punch & Judy. Mover, true to his name moved on and was replaced by Ian.
Eventually we got the album finished about 6 weeks behind schedule.
Mark
Recording at the Manor was an amazing if frustrating experience. I remember waiting all evening to record my guitar parts as they were having terrible problems syncing the two 24 track tape machines together and by the time they eventually came in from the studio at the end of the evening, I'd drunk the best part of a bottle of whiskey with one of the girls who worked there and then had to be put to bed by Fish.
I remember Richard Branson sitting at the kitchen table and a giant Irish Wolfhound sat in front of the open fire.
Steve R
For me, Fugazi holds a whole host of conflicting memories.
Recording at the Manor Studios in Oxfordshire was lovely, especially as we were staying there as residential guests while the session was under way. However, my Mum was In Harefield Hospital undergoing a triple heart bypass at the time, so I was driving back and forth to keep my Dad company and see how everything was at home.
Working on songs we were trying to record but hadn't finished writing was fun but an expensive use of studio time.
It was a great experience and I had a lot of fun, playing with and getting to know Ian, who had just recently joined the band.
It turned out pretty well though all things considered.
Pete
I remember meeting the guys for the first time at Rockfield studios in Wales and thinking 'this is a dream fulfilled' - a real band!
Then off to The Manor studios in Oxfordshire to record the Fugazi album. I particularly enjoyed taking Lightning - the studio Irish Wolfhound (very old, slow dog) - for walks.
Great atmosphere with loads of energy and a magical chemistry as a band that still exists to this day. The only slight panic I do recall was not having written the title track Fugazi, which was kind of daunting when you are spending £1000 a day. In the end it came together and I still think it's a great track.
Ian