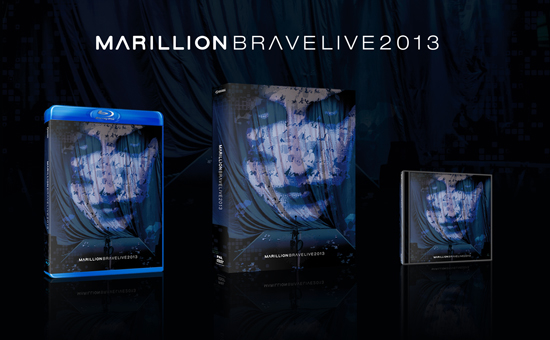 Brave Live 2013. Out on Monday 14 October.
It's finally ready and we are very pleased to announce that 'Brave Live 2013'
will be on sale in the Racket Store from Monday 14 October.
This concert film, featuring the whole of the Brave album performed in full plus well over an hour of encores & extras, will be released in the following formats:
Blu-ray:
£19.99

(inc VAT)
www.marillion.com/shop/dvd/bravelive2013-bluray.htm
A 1 Disc, all regions, world play version in glorious High Definition, with 96kHz Stereo & DTS-HD Master Audio 5.1 Surround Sound audio options. The Blu-ray also features a 5.1 version of Michael Hunter's 'River'. Packaged in a standard 1 Disc Blu-ray case.
DVD:
£15.99

(inc VAT)
www.marillion.com/shop/dvd/bravelive2013.htm
A 2 disc DVD version in PAL & NTSC formats with stereo & 5.1 Surround sound audio options. Packaged in gloss slipcase with pull out folding inner sleeve.
Download:
£10.99 FLAC / £8.99 MP3

(inc VAT)
A download of the audio from the CD will also be available in MP3 & FLAC formats. Please note: the Download will be available approximately 1 week after the main release.
Track Listings:
Brave Live Concert:
BRIDGE
LIVING WITH THE BIG LIE
RUNAWAY
GOODBYE TO ALL THAT
WAVE
MAD
THE OPIUM DEN
THE SLIDE
STANDING IN THE SWING
HARD AS LOVE
THE HOLLOW MAN
ALONE AGAIN IN THE LAP OF LUXURY
NOW WASH YOUR HANDS
PAPER LIES
BRAVE
THE GREAT ESCAPE
MADE AGAIN
Encores Set:
RICH
THE DAMAGE
TRAP THE SPARK
WARM WET CIRCLES
DRILLING HOLES
OUT OF THIS WORLD
SEASONS END
THE SPACE
Extras:(On DVD & Bluray Only)
FRIDAY NIGHT SONGS:
HOOKS IN YOU
COVER MY EYES
SLAINTE MHATH
OUT OF THIS WORLD FILM
RIVER 5.1 (Audio - Bluray Version Only)