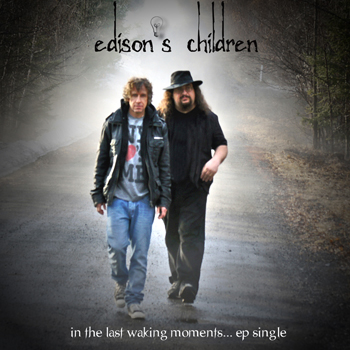 Hi, Pete here, with some exciting news about Edison's Children. First off I would like to thank you all for the tremendous support you gave myself and Eric Blackwood when we opened for Marillion's Brave shows at the conventions earlier this year. Wow, seems ages ago now. The Songs Eric and I played live were recorded and some of those are available for you now. As the single we released in America did so well last year. Reaching no 32 on the FMQB US Commercial radio chart and staying in the top 40 for ten straight weeks. We have upon request been working on a new single EP IN THE LAST WAKING MOMENTS, again for release to US Radio. This is currently available as a pre order from http://www.edisonschildren.com or by PayPal at http://edisonschildren.com/shop/Paypal/ This again will have a new track THROUGH THE AGES and two of those live tracks I was just talking about. A MILLION MILES AWAY (I wish I had a time machine) and Spiraling. The pre order will only be available on the Edison's Children's website.
I am currently over the other side of the pond recording Edison's Children's second album at Castle Edison. Quite a spooky place in the woods where it is a bit stormy. We have been working hard for the last few weeks on what is turning out to be a 72 minute epic song entitled Silhouette and pretty intense it is too. Like the last album this CD will be a conceptual piece.
While I'm over hear in America Eric and myself will be happy to sign anything you order from the Edison's Children's shop. (and Edison's Children artist Wendy "Darling") will also sign anything upon request.
Racket Records is now carrying all Edison's Children's releases. These are located on my page www.marillion.com/band/trewavas.htm and are as follows. Our first album IN THE LAST WAKING MOMENTS. the single A MILLION MILES AWAY (I wish I had a time machine) and IN THE FIRST WAKING MOMENTS. The making of and out-takes/re-mix album, which has some significantly different versions of songs and music from the first album. All copies of this last release have been signed by Eric and myself.
That's all for now. Once again thanks for your support and hope to see you somewhere soon.
Pete.