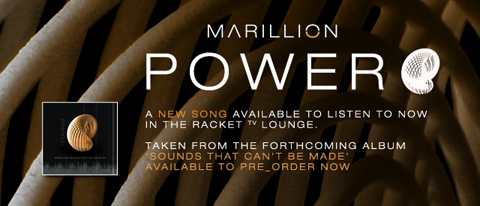 The band are away for two weeks touring Amsterdam, Hamburg, Copenhagen, Gothenburg, Stockholm, Oslo and Bergen (www.marillion.com/tour) and the mixes are now underway for Sounds That Can't Be Made so we thought we'd take this opportunity to update you on a few things. In case you missed it last week, we have put one of the new songs online to give you a taster of the album http://www.marillion.com/tvlounge.htm. The video also includes information about all the song titles, details on who has provided the artwork for the Special Edition and all our tour dates!
Talking of tour dates...we only have a few tickets left for the Dutch Marillion Weekend 2013 left so if you want to come and join in the fun then grab them while you can!
The tickets for the Montreal Marillion Weekend 2013 went on sale last week and are selling really well - we hope many of you that came to the recent shows in North America will come and join us.
The final weekend in the trilogy will be in the UK and tickets for this will go on sale in mid October. www.marillionweekend.com.
Tickets for the Uk tour in September are still available and the band will be playing 3 or 4 songs from Sounds That Can't Be Made. If you would like to help us promote the UK shows (and you can win prizes for helping!), then head over to https://www.facebook.com/MarillionUKStreetTeam and share your ideas with us.
We have produced some tour t-shirts with the dates for all Europe and UK shows between now and 2013 (http://www.marillion.com/shop) and they are on-sale now. They will also be available at the concerts but if you buy them online now then you can wear them to the show - it saves carrying it around:)
Also a reminder that Marillion have been nominated in the Live Event category for the 2012 Progressive Music Awards for their recent US tour and last year's Christmas shows. You can vote for the band via the following link. http://awards.progrockmag.com/awards/live-event
Right - we'd better get back to work!
The Racket Club Staff