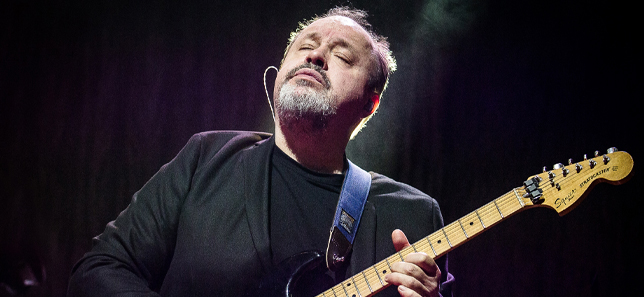 LATEST NEWS
STEVE ROTHERY BAND 2023 LIVE DATES
After the band Christmas holiday, it's now time to start rehearsals for the first Marillion weekend in PZ in ten weeks time! It's going to be very exciting to return to the unique atmosphere of PZ and we have a great set list that I think people will really love!
2023 is already filling up fast but I've managed to book quite an extensive tour with my solo band for later in the year (with several two day weekend events) where I'll celebrate 40 plus years of playing with Marillion along with various tracks from my Ghosts of Pripyat album.
As anyone who's ever been to a SRB show can attest, these are really fun shows and are not to be missed!
Ok, back to relearning some Marillion tracks.
STEVE ROTHERY BAND 2023 TOUR DATES
UK
9 - 10 June 2023
The Band On The Wall, Manchester, UK
EUROPE
8 - 9 September 2023
Poppodium Boerderij, Zoetermeer, Netherlands
11 September 2023
Amager Bio, København S, Denmark
12 September 2023
Musikens Hus, Gothenburg, Sweden
13 September 2023
Cosmopolite, Oslo, Norway
15 - 16 September 2023
Die Kantine, Koln, Germany
28 - 29 September 2023
Progresja, Warsaw, Poland
7 - 8 October 2023
Fryshuset, Stockholm, Sweden
STEVE ROTHERY BAND 2022 LIVE DATES
The response to the Steve Rothery Band - Live in London Blu-ray (www.marillion.com/shop/dvd/srb007.htm) has been fantastic and I've managed to shoehorn some European solo shows in with my band for Easter next year.
STEVE ROTHERY BAND 2022 TOUR DATES
EUROPE
Friday 15 April 2022
Cultuurpodium Boerderij, Zoetermeer, Netherlands
Saturday 16 April 2022
De Pul, Uden, Netherlands
Sunday 17 April 2022
The Piano Bar, Dortmund, Germany
STEVE ROTHERY BAND - LIVE IN LONDON
My Steve Rothery Band - Live in London Blu-ray was released on the 4th November 2021 and is available from Racket Records.
Full details of the release are available by clicking here
Limited quantities will also be available soon from The Band Wagon USA - click here for details
There's a trailer available by clicking here
And two tracks are available for preview -
White Pass - click here
Three Boats Down From The Candy - click here
RECENT RELEASES
VIDEOS
LINKS